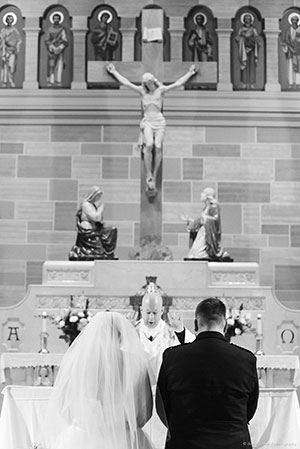 The Sacrament of Matrimony is a vocation – a public commitment between a man and a woman to spend a lifetime together creating & nurturing life and helping each other to become their best self in Jesus, in life, and to others.
"The matrimonial covenant," by which a man and a woman establish between themselves a partnership of the whole life, is by its nature ordered toward the good of the spouses and the procreation and education of offspring; this covenant between Baptized persons has been raised by Christ the Lord to the dignity of a Sacrament." (Catechism of the Catholic Church, 1601).
The Sacrament is a visible sign of God's unconditional love for us and brings grace and joy to the new couple. To start the marriage preparation process, we ask that you please contact our parish office at 410-566-0877 or [email protected] six to nine months before your anticipated wedding date. Couples must also consult with the Director of Music regarding music arrangements.
Wedding Gallery