"You, yourselves, like living stones are being built up as a spiritual house, to be a holy priesthood, to offer spiritual sacrifices acceptable to God through Jesus Christ." (1 Peter 2:5)
Vocations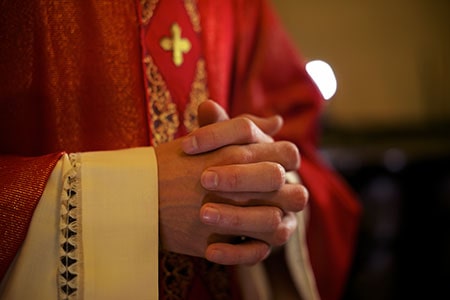 A person can have many different callings in life. For example, a person may be called to marriage, parenthood, single life, priesthood, or to a certain occupation. The ultimate goal of a vocation, in the Christian worldview, is to respond to and carry out the will of God. The church welcomes all holy men and women who are called to serve God's people.
The following is just a few of the many ways we can do this:
Discerning our primary vocation (marriage, priesthood, religious life, etc.)
Discerning our particular vocation (whom to marry, etc.)
Following God's will for our relationships with others
Avoiding sin and seeking to examine our conscience to discern where we are falling short and where we are responding to grace
Seeking to understand how God wants us to respond to circumstances in the world around us
If you are considering a life in church ministry, please feel free to speak with our clergy or pastoral staff at any time. For additional information on church vocations, please visit bmorevocations.org for more information.