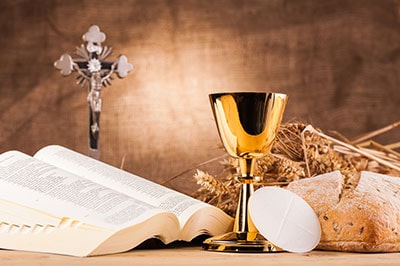 Rite of Christian Initiation for Adults (RCIA) is the process of welcoming adults into the Catholic faith. The reception of RCIA candidates is always a joyful occasion, which the entire church celebrates together. Aided by the support of the parish, adults seeking baptism and those desiring to enter into full communion with the Catholic Church embark upon a journey of faith, prayer, and personal reflection. Through conversation and mentoring, inquirers work with our RCIA team to learn more about the sacramental and spiritual life of the Church. There is no obligation to become Catholic. RCIA is also a wonderful opportunity for those who are already Catholic to renew their faith.
The RCIA process in our parish is ongoing throughout the year. If you or someone you know is interested in discovering more about the Catholic faith, please contact Father Mike in the Parish office at 410-566-0877. We look forward to welcoming you into our faith community!
The Catholic Church always welcomes new members into its community and invites individuals interested in learning more about the Catholic faith the opportunity to do so.
What is RCIA?
The Rite of Christian Initiation of Adults is the process of introducing Catholic beliefs and practices to adults and children who desire to join the Church or complete their Christian initiation into the Church.
The RCIA is for three groups:
Those who are not baptized
Those who were baptized into another Christian denomination and with to enter into full communion with the Catholic Church
Baptized Catholics who were never formed in the Catholic faith and have not completed their initiation; that is, who have received neither of the sacraments of Eucharist or Confirmation
The RCIA sessions primarily provide a journey of faith that takes interested persons, "…from the awareness of a stirring of faith and curiosity within one's heart through…"
the stages of asking and seeking,
beginning involvement with Roman Catholic people,
hearing the Gospel and faithful reflection and prayer,
study and discussion to learn about the Catholic way of life,
discernment of God's call for them as individuals,
the steps of commitment,
the sacraments of initiation (Baptism, Eucharist, and Confirmation),
… to a life of faith, love, and justice lived in communion with Catholics throughout the world."
Any adult, 18 years of age and older, who is either unbaptized or a baptized Christian of another faith, is invited to participate in the RCIA process. Children ages 8 and above are also invited to participate in a modified, age-appropriate version of the RCIA process.